Book Blogger Fair
This week I'm participating in the Book Blogger Fair. To read more about it, click here. For those who are too lazy to click through, it's a weeklong celebration for books and authors.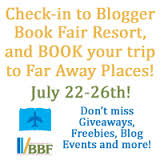 Over the next week or so, I will be posting guest articles and author interviews. Make sure to check out the items and welcome our guests. You never know what gem of a book you might uncover.
While you're there, make sure to check out my guest times on other blogs. You can find them below:
No Comments Yet.