I Don't Dance
I recently went to a Jazz dinner dance which was a wonderful excuse to get dressed up and feel like a princess for a night – even if my chariot was not a horse-drawn carriage but my little blue Hyundai Getz.
The night was great, the charity raised a lot of money and everyone had a good time – especially those on the dance floor.
I don't dance. Okay, I should qualify that by saying that I don't dance in public. Boogying around my house is a frequent occurrence, just ask Sophie my four-legged muse. She constantly wonders what on Earth I'm doing, especially when I try to get her in on the action.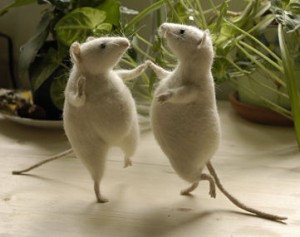 But dancing in public, with real, live people watching me? I can't do it. It's not that I don't want to, it's just that I feel so awkward and weird doing it. I'm sure I look like a fool and get so self-conscious that my feet stick to the one spot. I end up looking like one of those hula girls that sway on the car dashboard.
So while I sat there watching others have a good old time on the dance floor, I felt envious of them. To be so carefree and happy to shake their groove thing in public must feel fabulous.
To all those that do dance in public, I take my hat off to you. And to those that really get into it, thank you for being my entertainment. And to anyone who sees me sitting on the sidelines, force me up to dance. I will hate you for it, but I might thank you one day too!
No Comments Yet.