Girls Kick Butt
Lately, I have been obsessed with reading. Which makes a (slight) change from being obsessed with writing. I have consumed books like they were chocolate and have been unable to function without my daily read.
The main object of my obsession was the Vampire Academy series by Richelle Mead. I read that series so fast purely because I couldn't put the damn things down. When I said obsessed, I wasn't kidding.
So, I could go on and on about how much I loved those books (seriously, I could – ask anyone around me). And if you want to go on and on about them, drop me a line because I would love to continue my obsession. I will just say that you should read them if you haven't already. Because you too could lose a few weeks of your life where you don't talk to anyone.
Anyway, in amongst all my obsessing, I got to thinking about the main character, Rose. She is truly one of the greatest characters I have ever seen written. She's seriously cool and a walking contradiction. I love her.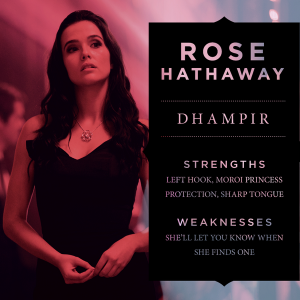 Another series I love is the Divergent series by Veronica Roth. I've gushed about this before. Tris is strong and brave and also cool. I love seeing all these strong female characters. Seriously, we need more of it.
So, I leave my ranting with one final thought. Who would win in a fight between Rose and Tris? I think it would be Rose, for a hundred reasons. What are your thoughts?
No Comments Yet.