More Teasers
Soar is out this Saturday! All the hard work has been done and it is ready and raring to go.
Soar – the fourth book in the Project Integrate Series – picks up a few weeks after Conquer left off. The whole gang are there, along with a few new faces to add to the mix.
What can you expect from Soar? Let's see:
- Get to know Amery's birth parents
- Learn more about the planet Trucon
- Find out if Lochie and Amery are getting along
- Discover more about Garrick than you'd ever imagine
- See more of the Lolasher relationship
It's all fun and games until someone is accused of murder. Here's this week's teaser: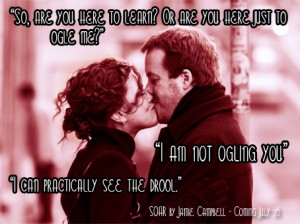 Can you guess who is saying what? Here's a hint, Lochie is not the one doing the ogling.
No Comments Yet.