Now Answering Questions
Brrr, it's cold in sunny Queensland! Whatever happened to that mild winter? I guess it went quicker than a fan at a Two Dimension concert (blatant Star Kissed reference – sorry!).
Anyway…. I thought I would let you know that I am now answering reader questions at Goodreads! So feel free to swing by and ask me anything. Just visit here.
And have you seen the teasers I've been dropping for the release of Soar? Make sure you follow me on Twitter and Facebook for the latest release developments. See the link buttons at the top of the screen to join in the fun.
Here was this weeks: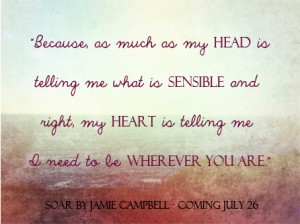 Who says that? Amery or Lochie? You'll have to wait for July 26!
No Comments Yet.