Cover Reveal!
It's time to get excited. Why? Because we are officially on a countdown until All the Pretty Ghosts is released!!! (Yes, it's three exclamation points exciting).
All the Pretty Ghosts is scheduled for release on April 4 (see countdown clock to your right) and it is something I cannot wait to share with you.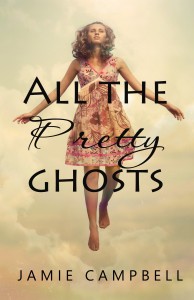 Set in a world where there are no adults left, we meet Everly Hilton as she fights to survive in amongst a planet full of ghosts. She needs to help them but she needs to stay sane too. Can her best friend, Oliver, make her see how important her role is? Or will bad boy Jet and his gang get to her first?
The first book in a series of 3, All the Pretty Ghosts kicks off the trilogy. The following books are all ready to go and will be released shortly afterwards.
Stay tuned for more news, teasers, and an introduction to all the creepy characters.