All the Pretty Ghosts – Out Now!
All the Pretty Ghosts is released today! Yeah! I have been waiting six months to share Everly's story with you and today is finally the day it happens.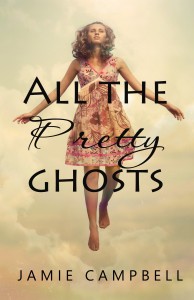 I really enjoyed writing The Never Alone Series, starting with All the Pretty Ghosts, mainly because of two characters. I can't tell you which two without giving the whole thing away, but let's just say there is a swoon-worthy guy and an incredibly brave girl that team together to save all the remaining children of the world.
I gave the readers attending the Readers and Writers Down Under signing day an exclusive pre-release chance to purchase All the Pretty Ghosts and they snapped them up fast. I completely sold out that day and have been receiving emails begging for the second book in the series to be released pronto. Don't worry – it's coming! You won't have to wait for much longer.
At the introductory special price of only 99c, you can grab your copy here and start the epic adventure where there might just be a few ghosts lingering…
Ghosts crowd around the square at night,
Waiting, waiting, to give you a fright,
Be careful when you see the dark,
It just might be a spirit, having a lark…
No Comments Yet.